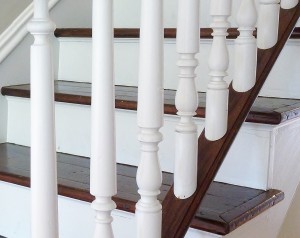 The 19th century was a golden age of millwork as highly decorated molding, and stairs reflected elaborate Victorian tastes. The popularity of the Colonial Revival and start of the Arts and Crafts movement at the beginning of the 20th century called for less flamboyant, though still quite distinctive millwork that characterized changing aesthetics in America.
However, during the last 100 years many buildings have suffered from ill-conceived attempts to modernize their interiors that destroyed much of their historical character. Using period millwork catalogs, house plan books and the study of surviving examples, Historic Design Consulting can help you restore the character of your historic building by selecting molding and stair parts that complement its architectural style. Using photos of your home we will produce a report with drawings and images which will allow you and your builder to select period-correct casing, base, chair and picture rail or wainscoting that your restoration project requires.
---
Please fill out the Getting Started form as the first step towards your custom Millwork report.